TICKETS AVAILABLE AT THE DOOR
Date:
Tuesday 15 March 2016,
BUCKCHERRY (USA)
Guests: The Poor + Electrik Dynamite
Sorry, there are no tickets available for sale yet.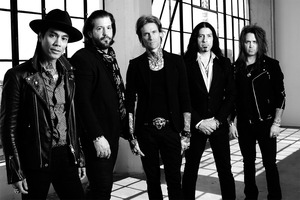 PLAYING TIMES:
Electrik Dynamite 7.30pm
The Poor 8.30pm
Buckcherry 9.45pm til 11pm

One of rock's great bands, Buckcherry will return to Australia and New Zealand this March.

Led by Josh Todd, a man who personifies rock n roll and anchored by his right hand man, guitarist Keith Nelson, Buckcherry will deliver a night of straight up good time rock and roll. It's going to be loud, it's going to be sweaty, it's going to be awesome! Buckcherry have released seven full length albums of pure, unbridled rock since forming in 1995.

Their latest, simply titled Rock N Roll sums up the bands ethos perfectly. Rock and roll should make you want to do a few things, says Keith Nelson, "It should make you want to drive fast, f*ck and dance" And that it does, Buckcherry uphold the unwritten commandments of rock music: Riotous energy, sexy swagger, primal chops and a lifestyle that can't be switched off. They know no other way.

Buckcherry will hit town soon.. oh yeah, you want it.

VIP MEET AND GREET INCLUDES
- Entry to the show
- Meet and Greet with the band
- Exclusive VIP Lanyard